Campaigns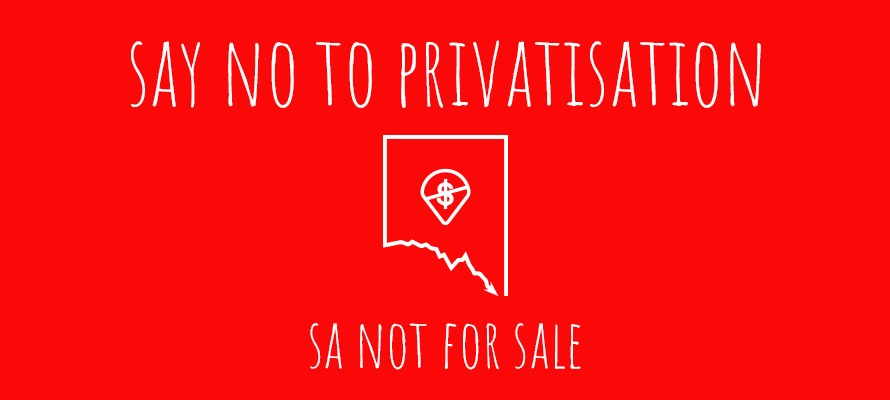 SA Not for Sale
SA Not for Sale
Successive governments in South Australia have privatised a large number of public services over many years.

This started with selling off our electricity, public transport, our forestry industry, the Motor Accident Commission, our highly regarded Lands Titles Office and the sale of the Adelaide Remand Centre to notorious multinational Serco.

Now our trains, trams and road and signal maintenance have also been sold off to a conglomerate of multinational corporations.
The privatisation of trains will cost South Australian taxpayers tens of millions more every year for up to 12 years.
SA Labor has committed to returning the trains to public control if elected in 2022.
In early July 2021, the management of government facilities and maintenance was privatised with the contract awarded to Ventia. Ventia's interests include MTC Broadspectrum, formerly known as Transfield, the notorious operator of Nauru and Manus Island detention centres. In 2013, Transfield was fined and stripped of eight Adelaide bus routes due to continued poor performance. Current Chair of Infrastructure SA board, Tony Shepherd, is a former board chair at Transfield.
SA Pathology was also under threat of privatisation until a broad union and community campaign prevented it.
In May 2021 the PSA, with the support of the Greens, the ALP and SA Best, was successful in achieving a parliamentary inquiry into privatisation in South Australia.
The inquiry is now underway and the PSA has lodged its comprehensive submission:
PSA Submission - Select Inquiry - Privatisation of Public Services in SA - August 2021.pdf
Join the campaign
We can only keep our public services in public hands if we act together to stop the Marshall government's privatisation agenda.
Join our campaign by signing up below. We'll keep you informed about upcoming campaign actions.


Become a
Member
With PSA membership you know you're protected at work and have access to a huge range of member benefits. We strive for a South Australian public sector in which staff are highly valued and well resourced, with fair and secure working conditions.
---
Public Service Association of SA
122 Pirie Street Adelaide
Member Benefits Centre
Ground Floor, 122 Pirie Street
8:30am to 4:30pm