Ten reasons to join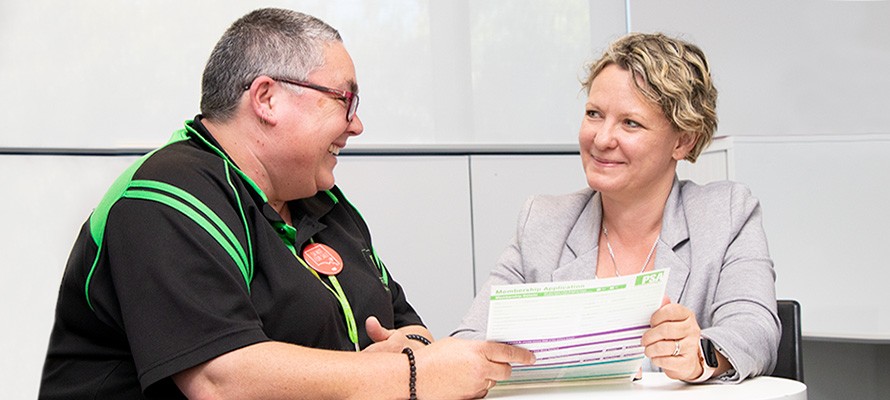 The Public Service Association of South Australia Inc (PSA) is dedicated to serving the needs and interests of members working in the South Australian public sector and campaigns for well-resourced public services that are accessible to everyone in the community.
If you work in the South Australian public sector you may be eligible to join the PSA.
Ten good reasons to join the PSA
1. Better Wages and Conditions. Union members have their wages and conditions negotiated by trained, skilled and experienced staff. Wages are higher and conditions are better in workplaces where staff are union members.

2. Protect Your Entitlements. Unions fought for and maintained overtime rates, annual leave, sick leave, long service leave, maternity leave, leave loading, penalty rates, maximum working hours, compulsory superannuation, equal pay for women and trade union training leave. PSA membership protects these entitlements.

3. Strength In Numbers. Belonging to a union helps to empower members to make their working lives better. You will be part of a strong network of workers supporting each other across the public sector.

4. Comprehensive Workplace Advice. PSA members can access expert industrial advice and representation from specialists, either in person or through our Members Rights Hotline, which is open Monday to Friday from 9am to 5pm.

5. Save Money. Members enjoy a wide range of benefits and savings through PSA Plus Member Benefits Program, discounted health insurance through Health Partners, Coles and Woolworths gift cards, metro cards, movie tickets, and access to PSA holiday homes in SA and New Zealand. And your union membership fees are tax deductible!

6. Influence Policy. PSA members have the opportunity to contribute to and influence issues in your workplace or agency. The PSA advocates for members at the highest political and government levels.

7. Stay Informed. PSA members are provided with up-to-date information about their working environment. Stay informed with our regular website updates, network of Workplace Representatives, quarterly 'Review' magazine and agency-specific communications on topics that are important to you.

8. Legal Advice and Assistance. PSA members have access to legal advice, assistance and family mediation services through our free Legal Services Scheme. Legal representation covers a large number of non-work-related areas.

9. Journey Accident Cover. PSA membership provides free income protection from the minute you join, through our Journey Accident Cover.

10. Better Workplace Health and Safety. The PSA works to ensure that members are protected from risks to their health and safety.
Membership fees
Only PSA members can access the union's comprehensive benefits, including industrial representation provided by dedicated PSA officers.
PSA membership ensures you are protected should you ever need assistance.
Please note: we are unable to provide individual support to new members for issues that arose prior to joining the PSA.
Membership subscriptions are 0.95% (+ GST) of your substantive base salary, capped at the maximum of the ASO 5 salary.
Become a
Member
With PSA membership you know you're protected at work and have access to a huge range of member benefits. We strive for a South Australian public sector in which staff are highly valued and well resourced, with fair and secure working conditions.
---
Public Service Association of SA
122 Pirie Street Adelaide
Member Benefits Centre
Ground Floor, 122 Pirie Street
8:30am to 4:30pm